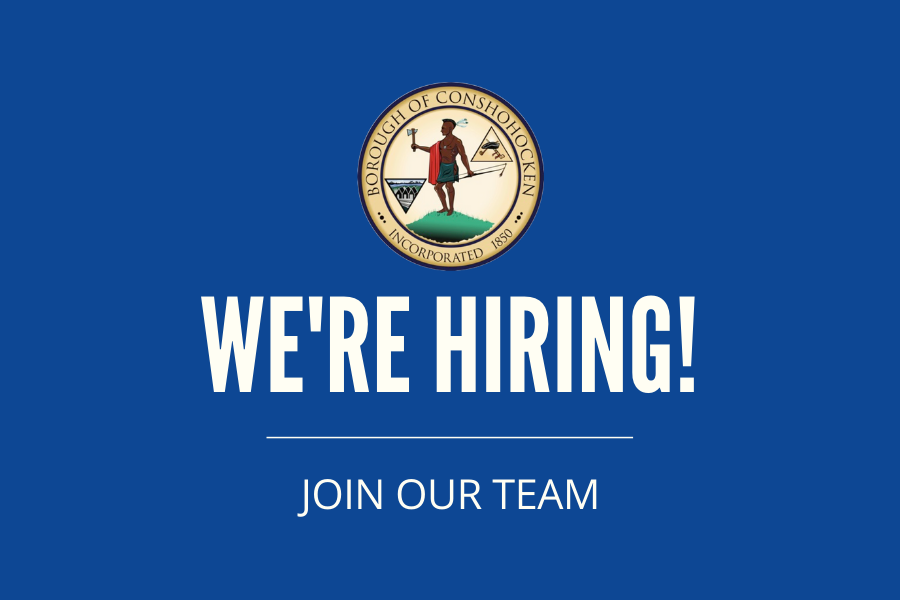 Oct 31, 2022
Employment Opportunities
The Borough of Conshohocken is accepting applications for a full-time Administrative Assistant, Operations. The Department of Public Services includes Public Works, Licenses and Inspections, Fire Services and Emergency Management. The purpose of this position is to perform advanced administrative tasks in direct support of the Executive Director of Operations and the department to ensure the effective functioning of the department and overall, Borough operations. 
Review of applications will begin immediately and continue until the position is filled. Candidate must possess the following: demonstrated ability to read and write English; have a familiarity with office and computer technology; be self-motivated; multi-task; possess the demonstrated ability to set goals and priorities and achieve them; have exceptional organizational skills; possess the ability to comprehend and effectively communicate information; demonstrated ability to perform tasks independently is essential.  Candidate must have a general knowledge of maintenance contracts, union labor contracts, property leases, and building and property maintenance codes. Ability to handle confidential information. Experience in municipal or state government is preferred.  Position will be challenging and may have periods of stress; a demonstrated ability to provide exceptional customer service is required. Position will require evening and weekend hours. A cover letter, resume, three references, and a completed Application for Employment found on the Human Resources page should be sent electronically to the Director of Administrative Services/HR at humanresources@conshohockenpa.gov.

Please view the full job description and find the link to the application on the Human Resources page on our website by visiting the link below.